Installing Miata Seats in a Spitfire
The Iinitial Trial Fit and Comparison The Mechanical Mounting The Results
Well here they are. Circa '90 Mazda Miata black cloth and
vinyl seats. These have the speakers in the headrests,
and a map pocket on the back of the passenger seat.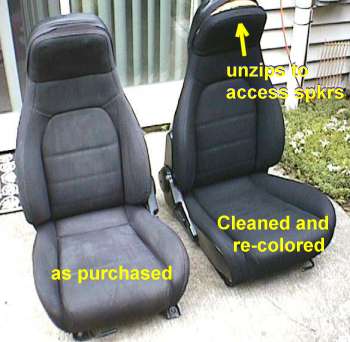 A before and after... simple cleanup with car upolsthry cleaner and re-coloring
with Mar-Hyde* carpet dye made for automobiles. The standard vinyl paints don't
work well on cloth. Being this cloth is a nylon based material, the carpet dye worked
quite well and now after 50+ hours of 'butt time' in the seats, has shown no signs
of coming off or leaving traces of dye on our clothes. The white at the top of the
cleaned seat, is the zipper open pouch for speaker access in the headrests.
(* product found at Pep Boys, an east coast auto parts chain store)
---
---