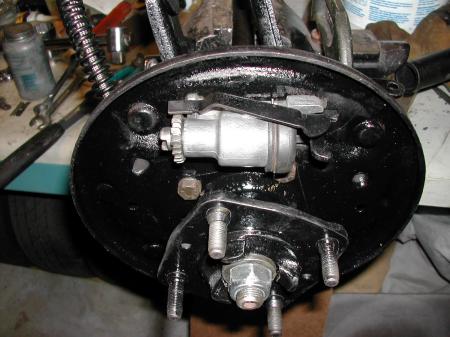 Instead of the normal shoe contact 'U' to capture the shoe on the non-plunger side of the hydraulic brake cylinder, there is a little 'racket' mechanism in the end of the cylinder. These cylinders were apparently used on a few other models of Triumphs (Dolomites??) but no other Triumph imported into North America. Only the late model GT6 MKIII.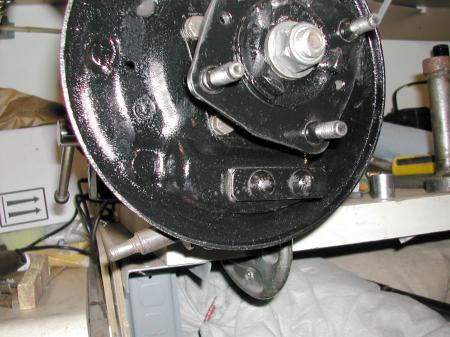 Most Spitfires and GT6s, have a small adjustment mechanism at the bottom of the back plate. As you screwed it in, the brake shoes were forced out, closer to the drum. As you can see here, there is a fixed stack of plates riveted to the backplate to capture the bottom edge of the shoes, No manual adjustment is available or needed here.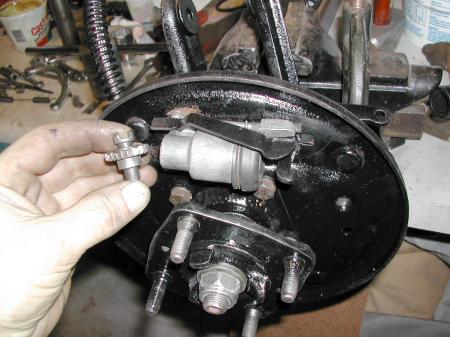 The little 'bar' across the top of the hydraulic cylinder, is attached to the park brake lever. The little racket wheel, plugged into the end of the cylinder, has a threaded screw in it, in which the brake shoe top edge rides. Every time you pull up on the hand brake lever, this little bar snags a racket tooth and unscrews it a bit. This effectively 'extends' the distance between the top edges of the brake shoes, thus performing the task of the usual bottom edge adjuster. If the shoes are already out far enough, the bar doesn't return far enough to grab the next tooth, so it only rackets as needed.
So, not only is the cylinder unique to the line of Spits and Gt6s, so are the brake shoes, backplates, and hydraulic cylinders. :-|