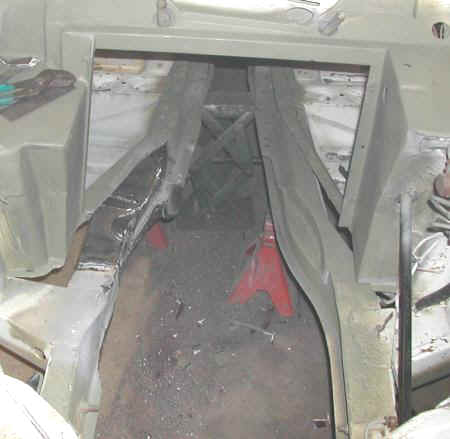 You can see the new box section on the outer
side of the rail to the left in the above photo.
(raw unpainted metal at left)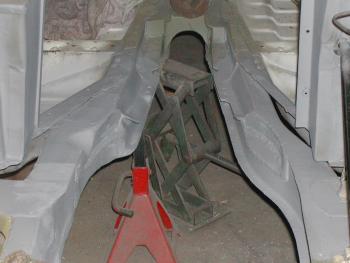 Ok...back to updating these pages.
After test fitting the engine and tranny again, I realized the exhaust system was not going to clear the frame rail. So I figured I'd simply go to a muffler shop and have them rebend the downpipe a bit. After a whole LOT of study...I realized that would be a no go as well as hte pipe would have to stcik out too far below the frame rail.
My only other option...modify the frame rail...again! Having already eaten up a bit of space in the right side foot well to clear the starter with the new firewall, I figured out a simple fix. I cut out the now boxed in bottom front left corner of the right side floor pan, which gave me space to the right, of the right side frame rail. I simply cut out a chunk of 14 gauge steel, bent it into a 'C' 3" x3.5" x 3" (around the 'C' and) about 14" long. I then split the 'C' at the top and bottom and slightly folded it along it's length. This 'C' became the new right side wall of the frame rail. I then simply cut out the original left side of the right hand frame rail, to clear the pipe. So in simpler terms, I used the original right hand side of the right frame rail as the new inner (left side) of the frame rail and added a new outer right side to the rail.