Putting in all that (weight and extra power) is foolish without updating the brakes. So a set of standard GT6 front axles, uprights and brakes were installed. The calipers were painted with VHT high temp enamel. All new seals were installed in the calipers along with stainless steel pistons. The calipers were bench bled with silicone (Dot5) fluid for this project. I seem to find myself using 500 degree engine paint on more and more parts even though they will never see those kinds of temperatures. The stuff just seems heavier and is less chip prone than normal spray paint. (I'm too cheap to powder coat 'em)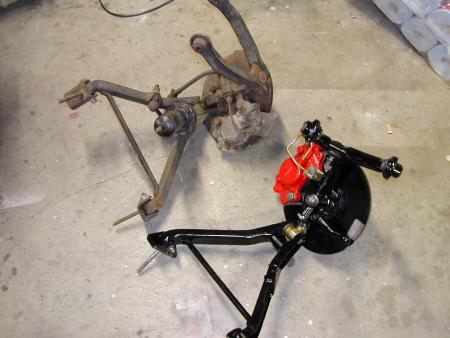 I had purchased a complete spare set of GT6 front suspension parts on EBay about 3-4 years ago. When I rebuilt Big Red, they ended up on that car. So I simply pulled out Big Red's original set, rebuilt everything, and viola'.
All new poly bushes, seals, lower trunnions and pivot bolts were installed. The first time around, I installed brand new GT6 springs. I figured the extra weight up front of the GT6 engine, they were needed.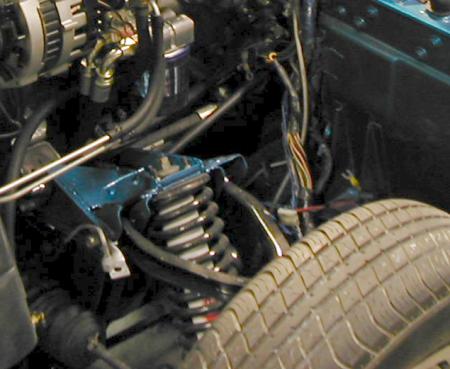 Well I couldn't have been more wrong! The front end sat way up in the air. So I re-installed stock late Spitfire 1500 and sure enough, she sits perfectly.
well... she sits where I want her to anyway.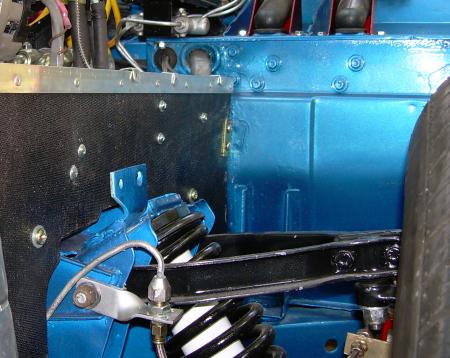 The stock Spit metal brake lines were re-bent to re-position them in the stock GT6 configuration vs the Spitfire setup. Even though Whitey already had flexible stainless steel brake lines all around, new GT6 versions were installed here to match the plumbing of the GT6 calipers and plumbing fittings.