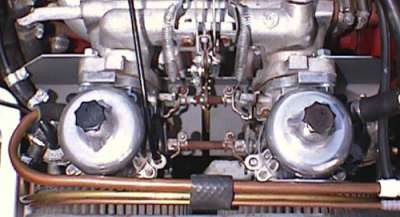 A full shot from the top, showing both heat
shields in place and the center spring clearance

A major advantage of this mount design, means I can remove the shield as needed without disturbing the carbs. I'm thinking of adding a bit of insulation to the back side (TBD)

Now for the real logistics. The aluminum sheet used for the shields is literally the top of and electronics equipment box I had laying around. Any baking cookie sheet would do as well.

Start with a pair of scissors and a piece of thin cardboard. Simply cut to your desired fit and shape. Trace your cardboard onto the sheet metal. Using a pair of metal shears, or jigsaw, or what ever means you have, simply cut out the shape as desired. Use a standard gasket to mark where you need to drill your two holes for the mount bolts. You could also simply mark them right through the manifold stud holes while test fitting your cardboard templates.

After bolting them up, bend as desired to clear the manifold and add a bit of protection to the bottoms of the carbs and to get the shield 'centered' between the exhaust manifold and the bottom of the carbs. (best position to minimize absorption of heat from the exhaust manifold and still minimize radiation to the carbs.)

Best of luck with what ever you try!