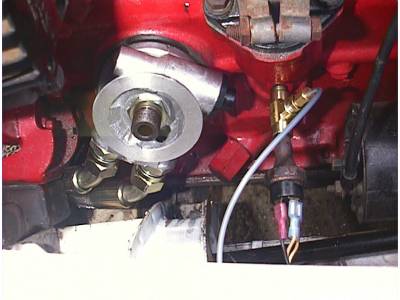 The takeoff plate has an oil thermostat built right into it. It's Mocal p/n OTSP1A , but I purchased it as part of the stainless steel hosed installation kit, p/n OCIT1395. The oil cooler itself is a 10 row unit, p/n OC5103-8. The little black cap in the photo above (at about 2 o'clock), is the thermostat housing spring cap.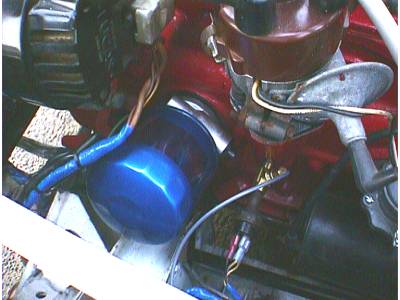 I'm using a Purolator 'PureOne' micofilter element filter that also has an anti-drainback feature. This should help keep the oil in the filter and in the cooler, to eliminate those startup clatters the 1500 engine is famous for.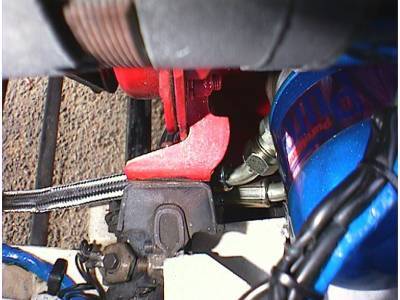 The oil cooler lines are angled down nicely to clear the engine mount. It's advisable to finger tighten everything and position the entire setup before final tightening of the hose connections. This will eliminate any sterss on the lines and fittings.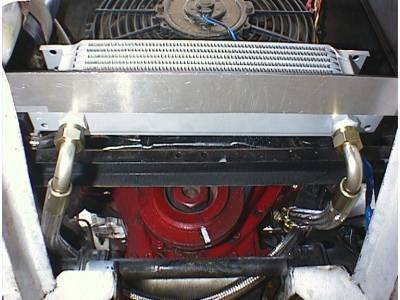 I do believe this installation kit was in error, as the one hose (on the left) seems REALLY too long. So I simply let the extra length run under the bottom front of the engine before running it forward to the cooler. I haven't yet decided on a design for the cooler mounts. So it's just sitting there in the above photo. Presently the cooler would sit right in front of the radiator's lower tank and not block any of the fins.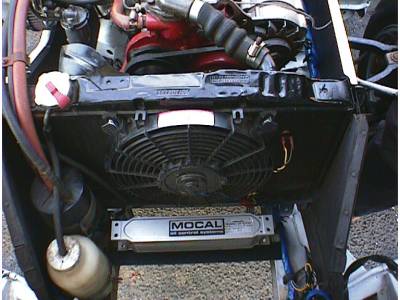 QUESTION: I can't decide if the hose entry should be on the bottom and have the cooler up higher (as pictured), or mount the cooler lower, (between the frame rails) with the hoses entering from the top. The stainless steel lines seem to indicate the 'bottom entry' was the intended installation design.
AS long as the cooler is below the takeoff plate I don't believe I have to worry about the cooler draining back into the motor. (Also the reason for the anti-drain back filter use)
comments??...suggestions??... anyone??